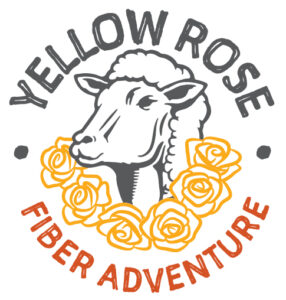 Similar to a yarn crawl, the Yellow Rose Fiber Adventure will take you on a fiber adventure throughout Texas.  Visit all or some of the stores, farms, and ranches below.  There will be something for all, crocheters, knitters, weavers, felters, spinners, and rug hookers.  If you're looking for patterns, yarn, roving, batts, fleeces, tools, or looking to get fiber animals of your own, then this is the adventure for you. 
The 2023 Yellow Rose Fiber Adventure will take place between
Yellow Rose On the Coast and Yellow Rose Fiber Fiesta
Free Adventure patterns and Yarn discounts will be available from vendors attending Bandera Fiber & Arts Week. 
Pick up your passports for just $5 at Yellow Rose On The Coast, from one of the participating stores or farms, or Click here to buy one online
Participating Stores and Farms
Entwined Fiber And Wire, New Braunfels, TX, http://entwinedfiberandwire.com
I use primarily my own animal's fiber for producing one-of-a-kind items. I have felted items, woven items and handspun yarns. I have angora rabbits, llamas and alpacas as fiber animals on my farm.
We are also Harvest Hosts for those of you who love to camp!
September 24-25 Open Farm day from 9-5 celebrating National Alpaca Day!!
Hours of Operation
9-5 or by appointment. I have a farm stand on property with items to purchase.
Gulf Breeze Alpaca Ranch & Lodging, Lake City, TX, https://www.gulfbreezealpacas.com/
You won't be disappointed. Gulf Breeze Alpaca Ranch & Lodging is a destination of its own. Step into the farm store to browse the products we make from our herd of alpaca as well as our heritage sheep. Make arrangements ahead of your visit for private or group class (see our website for classes offered). Or extend your visit by booking one of our cabins.  Purchase tour tickets at https://gulf-breeze-alpaca-ranch.square.site/  $15 Adult/ $12 Child
Hours of Operation
Tuesday through Saturday
10:00am to 6:00pm
Savvy Skeins, New Braunfels, TX, http://www.savvyskeins.com
Hello! My name is Ali and I am the owner of Savvy Skeins. I am an indie dyer in New Braunfels. I sell luxury yarn in various weights and colors. I also sell knitting and crochet themed t-shirts and beginner dyer kits. I have also begun including finished crocheted Amigurumis courtesy of my daughter Anna.
Come by and get a sneak peek at where all the magic happens at Savvy Skeins! For two days only I am opening my garage door to the public. Shop my racks, purchase an exclusive Fiber Adventure color way, see my dye area, and grab yourself a dye kit so you can dye your own yarn at home. Come by February 18-19 from 10:00 AM to 6:00 PM
The Sheepwalk Ranch, Bandera, TX, https://thesheepwalkranch.com
The Sheepwalk Ranch is home to Suzoo's Wool Works, a fiber arts shop and design studio, Wild Creek Ink hand dye yarn, fiber and fabric. We are home to over 50 sheep, varying wool breeds, 3 llamas and 50 egg laying hens.  We are also home to Bandera Fiber & Arts Week March 7-11, 2023. https://banderafiberandarts.com/
Hours of Operation
By Appointment- working sheep ranch and fiber arts studio.  Admission is $5 and a bag of carrots  
Spross Hollow Alpacas, Seguin, TX, http://www.sprosshollowalpacas.com
Spross Hollow Alpacas is an active working Alpaca ranch nestled in a hollow located in Seguin Texas. Breeders of beautiful elite fleece producers and show class Alpaca's.
Makers of "Pride of Texas, American Made" fine Alpaca clothing and yarn from our very own herd.
Come book a tour and visit the onsite Alpaca store and have an Alpaca experience you will not soon forget.  Farm tours are $20
Keep up with us at "Spross Hollow Alpacas" on Facebook and Instagram for updates and current events:
Hours of Operation
Weekends 10:00AM to 4:00PM
Winterstrom Ranch LLC, Natalia, TX, http://winterstromranch.com
We are a Full-Service Fiber Mill, turning raw fleece into Yarn. We have Alpacas, sheep and goats on the property as well as pigs and chickens. $5 per person for Tour. $15 per person for Tour and Felted Soap class. 
Make sure to come to our Grand opening event! October 8th, 2022. 10-3 here at Winterstrom Ranch in Natalia, Tx
Hours of Operation
Call for an appointment 
You're So Crafty, Seguin, TX, http://www.youresocrafty.com
In Central Texas, You're So Crafty is the spot to visit for your crafting needs. Fabulous Yarn, Needles & Notions. Beautiful Beads, Findings & Tools. A wide assortment of Art Supplies for your crafting needs!
But that's not all – You're So Crafty is also a walk-in studio for lots of crafts.
Visit our Makery Stations for Canvas Painting, Board Art, Polymer Clay, Metal Stamping, Beading, Glass Fusing, Mixed Media, Mosaics, and Paint Your Own Pottery. Paint-n-Sip and Kids' Birthday Parties are our specialty. And don't forget to check out our Classes, Camps, Workshops & More.
No appointment necessary!
Hours of Operation
Mon-Fri – 10-6
Sat – 10-4
Sun – 12-4