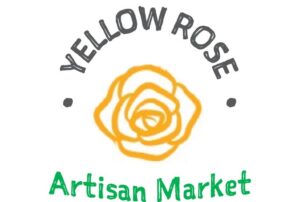 Unless otherwise noted the Yellow Rose Artisan Market takes place on the fourth Saturday of every month in Seguin, TX central park from 9 AM to  4PM.
The mission of Yellow Rose Artisan Market is to provide a market day for local artists, artisans, and makers to sell their work to the community. Vendors must make their own products, or substantially modify a product in an artful manner.  We wish to avoid any re-selling of products bought online or any multi-level marketing schemes.
Seguin's Central Park is an outdoor location. You will be responsible for bringing you own tables, chairs, tents, and whatever else you will need for the market day.  Food trucks will need to provide their own generators for electricity.
Set up begins at 7:00 AM. Booth assignments will be made on a first come first serve basis.
Please unload your vehicle, move it, then start your set up. We want to make sure that everyone can unload as near to their space as possible.
Please make sure to have enough weight on your canopy as the weather demands. Please do not use any stakes or T-posts as there is underground irrigation in the park.
The market has been extended to 4:00PM for April, May and June.  If you need to pack up and leave prior to 4:00 PM please inform us before hand so we can properly locate your booth where your early tear down will not impact other vendors. When you do tear down, please make sure to remove any trash from your area, including any zip ties or tape.
The following items are NOT allowed to be sold at Yellow Rose Artisan Market without exclusive written consent: firearms, weapons, alcohol, drugs/medicine, CBD or CBD-related products, items considered indecent, obscene, or discriminatory. Please avoid having anything overtly political outside your tent.
Laws & Regulations: You are required to abide by all state and local guidelines including food safety requirements and licenses. You are required by the state of Texas to have a Sales Tax Permit if selling tangible goods that are not covered under Agricultural or Cottage Food Laws. If you are required to obtain a food permit, Sales Tax Permit or mobile vending license, it is your responsibility to provide a copy of such permit to the Yellow Rose Artisan Market.
The City of Seguin requires a Temporary Food Permit for each vendor that sells any type of food. This includes jams, jellies, pickles, salsa, and any other food, whether it be fresh or canned or jarred.  They also require you to provide a copy of your labels.  We will work with you on obtaining the Temporary Food Permit and paying the $25 fee.  Food trucks are required to be properly permitted by the City of Seguin and all other relevant governmental agencies.
Food trucks will park in the parking spaces along E, Donegan St that are next to the park and will not block any park of the road or sidewalk.
PAYMENT: payment is due upon receipt of the invoice.  Your space at Yellow Rose Artisan Market is not guaranteed until you make payment.
CANCELLATION: Yellow Rose Artisan Market is a RAIN or SHINE outdoor event.  Yellow Rose Artisan Market will not cancel a market day due to the weather.  No-shows the day of the event will not receive a refund nor will they receive credit for future market days.  Cancellations provide via email, text, or Messenger received one week prior to the market day start time will receive a credit for the next market day only.  No refund will be provided.  If city, county, state, or national government shuts down the market for any reason there will be no refunds.